This is Tampa's FIRST 5k and 10k event of 2018. Your Resolution Run!! What are your goals for 2018? Achieve your first goal with us by finishing a 5k or 10k.
Every finisher will receive a performance shirt AND a customized finisher's medal. Stick around and listen to some live music by local bands and eat from your local food trucks!
A portion of our proceeds will be donated to the Special Operations Warrior Foundation. Your participation in this event directly benefits this incredible charity organization which offers college scholarships for the surviving children of fallen Special Operations Forces, family and educational counseling, and financial grants to these families.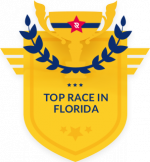 Race Info
When: January 7th, 2018
Where: Al Lopez Park
Begins: 8:00am
Ends: 12:00pm
Price Schedule
Event

Introductory

Price

Nov. 1st - Nov. 30th

Dec 1st - Race Day
5k

$20

$25

$30
10k

$30

$35

$40
Virtual 5k

$20

$20

$20

Questions?

Contact:

Edmund Arellano
Race Director


This email address is being protected from spambots. You need JavaScript enabled to view it.
The Charity
A portion of our proceeds for this event is going to the Special Operations Warrior Foundation, a non-profit 501(c)(3) organization focused on providing for families of fallen Special Operation Forces. Your participation in this event directly benefits this foundation. The SOWF will be at the event cheering for the runners, so be sure to stop by their tent and say hi! We thank you for supporting the SOWF!
Corporate Teams
Have a company face-off! Does your marketing team like showing off? Challenge them to a run! Is your HR department talking up some smack? Let's see how well they do on a race! Form a team of 6 runners (or a minimum of 3) and compete for the corporate cup!
How does it work? One team captain will create a team and recruit 6 runners per team. Professional elite runners are NOT allowed to register. It's an unfair advantage to other teams!
Team set-up: $100
Team member discounted registration price: $10 (5k) / $20 (10k)
Award Groups
First, Second, and Third place finishers will receive an additional award in the following categories:
Young Athletes (10-14)
Inspiring Athletes (15-19)
Warriors (20-26)
Hard Chargers (27-34)
The Motivators (35-49
The Elitists (50 and over)
---
Josh Carroll and The Fix
Run your race, then stick around and listen to some great music by Tampa's own Josh Carroll and The Fix. These guys are awesome!
The Medal
5k and 10k runners will each have their own unique medal. Sign up today and earn your first medal of the year.
---
Volunteers
Events like these couldn't happen without the show-force of great volunteers. Volunteers will get a free bib into any of our next races.
Pacers
Every runner is motivated by those around them. Why not become a pacer for this event and help some runners cross that finish line? Sign up below.
---
Gear Drop-Off
Did you bring a bag with you? It's cool. Just drop it off at our free gear-check tent. Our volunteers will tag your bag with your bib number and keep it safe. HOWEVER, please do not leave any valuables in your bags. This means cash, electronics, phones, etc. We'll do our best to keep it safe for your return, but NeoEndurance or its volunteers and staff are not responsible for lost items.
When you're done running and showing off your bling, pick up your bag. The gear tent will close down at 12pm on race day. You'll have until then to check it back out. By the way, this is only for runners with a bib and assigned corral. Family and friends who are not running must carry their own stuff. We're not a daycare center!
Runner Perks
What are you getting with us? How about this - EVERY runner gets a medal and a performance shirt. That's just the icing on the cake (which we won't have!). You'll also have a variety of local food to choose from after your run, LIVE music, and an awards ceremony. Let's do it!
---
Gifting
In the giving mood? That's right. You can gift this race to another runner. To do this, you'll need to follow these steps:
Register for the race in your name (as if you were running the event yourself).
Under your RunSignUp page, click on "Profile" on the menu bar.
Click on "My Registered Races".
Click on "View/Edit Registration".
Select the tab "Transfer to Another Runner".
Fill out the new runner's information and then click on the button "Transfer As Gift".
***IMPORTANT*** There is a $5.00 transfer fee for gifting. You will NOT receive a refund of any kind. Remember, it's a gift! The recipient will be allowed to register without charge.
Confused? Click below for a tutorial on gifting this event to another runner.
---